By Maygen Kardash
If you can think of a more beautiful venue for a fashion event than Saskatoon's iconic Bessborough, I'm going to have to straight-up challenge your judgment. The palatial hotel will play host to Saskatoon Fashion and Design Festival's Runway event the evenings of Saturday, November 5th and Sunday, November 6 and sweet mercy, these shows promise to be fantastic. From bohemian vibes to all-out rock 'n' roll, there will be something to suit every taste and today, we're going to dive into Saturday's lineup to find the designer or local shop that seems to be channeling your unique style.
Cool, urban, and minimal, Eleven03 will be showcasing their handmade collection of better-than-basics designed by locals Logan and Luke. These aren't your average white t-shirts nor a play on normcore-- these are handcrafted pieces ready to be coveted by connoisseurs with the chillest of capsule closets.
Straight-up but not overdone, Rude Vogue is streetwear meant to be lived in. Often branded with their signature all-caps font and other times emblazoned with tongue-in-cheek messaging like "Crew" or "Cult Classic", this is a brand after the heart of every on-trend cool kid who is confident in wearing his heart on his sleeve.
Cree designer Tishynah Buffalo creates clothing that honors her Indigenous heritage while embracing modern lines and style. Her custom-made Pendelton coats arguably attract the most attention with striking colours and patterns that are instantly recognizable. Tishynah's beautiful work has generated a diverse fanbase with the common denominator being a love of rich colours, natural textures, and traditional patterns.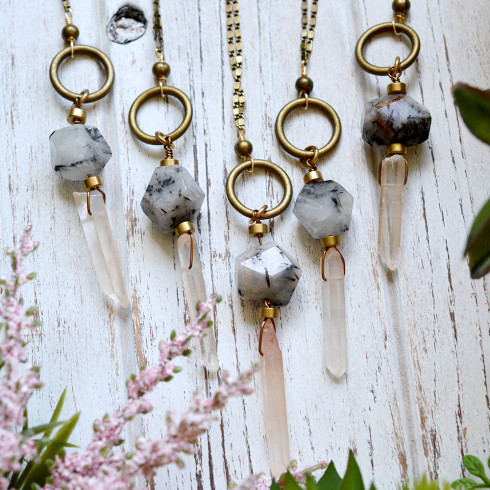 Beautiful and bohemian, the Soulfari jewelry collection features crystals, beads, leather lacing, and brass. The vibe is laid-back and peaceful with a nod to Indian yoga culture (check out their limited edition hasma hand necklace!). Whether you're spending the morning perusing the farmers' market, getting together with friends for an instagram-worthy crafting date, or meeting your s.o. for a cocktail, this jewelry will match your breeziness and ease.
Saskatoon's one-stop shop for all things on trend is White Dhalia by Dutch Growers. The well-curated selection is vast and spans from out-on-the-town wear like pleather leggings and off-the-shoulder everything to career wear like fitted dresses and sharp blazers (not to mention the many cozy pieces perfect for movie nights with your BFF). One way White Dhalia shines is their personalized styling services which help you discover what works for your body and how you can make your clothing work hardest for you.
From the mind of Creative Director Aleem Arif, Bano eeMee is recognized for their luxurious leather jackets and edgy blazers, each tailored to perfection. Featured in major magazines like Fashion, Flare, Hers, and Avenue as well making appearances in numerous papers and blogs, this brand is on the rise in a big way and sophisticates are taking notice. And it's no wonder: with details like coloured leather, fringe, interesting textures, and many mixed media designs, Bano eeMee stands out as unique while still possessing a classic aesthetic.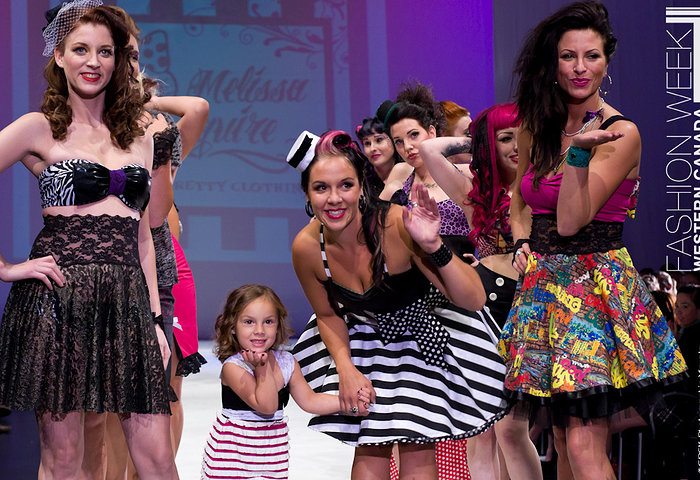 For the girl who loves to push the envelope with a wink, headlining designer Melissa Squire creates "badass pretty" clothing that has roots in both rockabilly and punk. This is the designer whose upcycled tire bowtie landed in the hands of A-listers thanks to a coveted placement in an Oscar swag bag, and that same quirky creativity shines in every piece she makes. Known for her crinolined skirts and cheeky material combinations, an outfit by Melissa Squire will make any wearer the life of the party. It's all about confidence, body positivity, and a love of a great vintage silhouette. Oh, and did somebody say "mommy and me"? Because YES, Melissa Squire creates mini masterpieces... and they are always destined to get cameras clicking.
And now that you've met your match(es), I look forward to seeing you next Saturday! (Click here for tickets if you haven't got yours yet.)
xoMaygen